CURRENT EXHIBITS
ACCRA SHEPP: UNSEEN UNKNOWN
Unseen Unknown: Staten Island and its islands
Newhouse Center for Contemporary Art (Building C)
Exhibit on display: April 9–June 5
Opening & Reception: April 9, 2PM | Free Admission
Gallery Hours: Wednesdays-Sundays, 10AM-5PM | $5 Admission
Unseen Unknown: Staten Island and its islands is a glorious exposition of large-scale work by photographer Accra Shepp. This exposition is part of a photographic survey of the more than 40 islands that make up New York City. Accra Shepp's work has been exhibited all over the world and is in a variety of venues such as the Museum of Modern Art, The Art Institute of Chicago, and The Victoria and Albert Museum.
Curation by Gabri Christa, Snug Harbor's Artistic Director.
---
SOPHIA DAWSON: SNUG HARBOR ARTIST IN RESIDENCE (SHARP)
Newhouse Center for Contemporary Art (Building C)
April 9–May 9
Wednesdays-Sundays, 10AM-5PM | $5 Admission
Snug Harbor Artist in Residency Program (SHARP) exhibit. We extended the exhibit of Sophia Dawson, which was the culmination of her two-month residency at Snug Harbor. The exhibit depicts portraits of political prisoners.
---
BOROUGH ARTS FESTIVAL 2016
Newhouse Center for Contemporary Art (Building C)
Exhibit on display: May 13–June 5
Opening reception: Friday, May 20, 5-7PM
Gallery Hours: Wednesdays-Sundays, 10AM-5 PM | $5 Admission. Free for exhibiting students, their families and classes.
Borough Arts Festival 2016 showcases and celebrates the talents of Staten Island's District 31 and 75 students in the arts. Sponsored by Chancellor Carmen Fariña and NYCDOE, the exhibition will feature artwork created by Pre-K through 12th grade students in various media.
---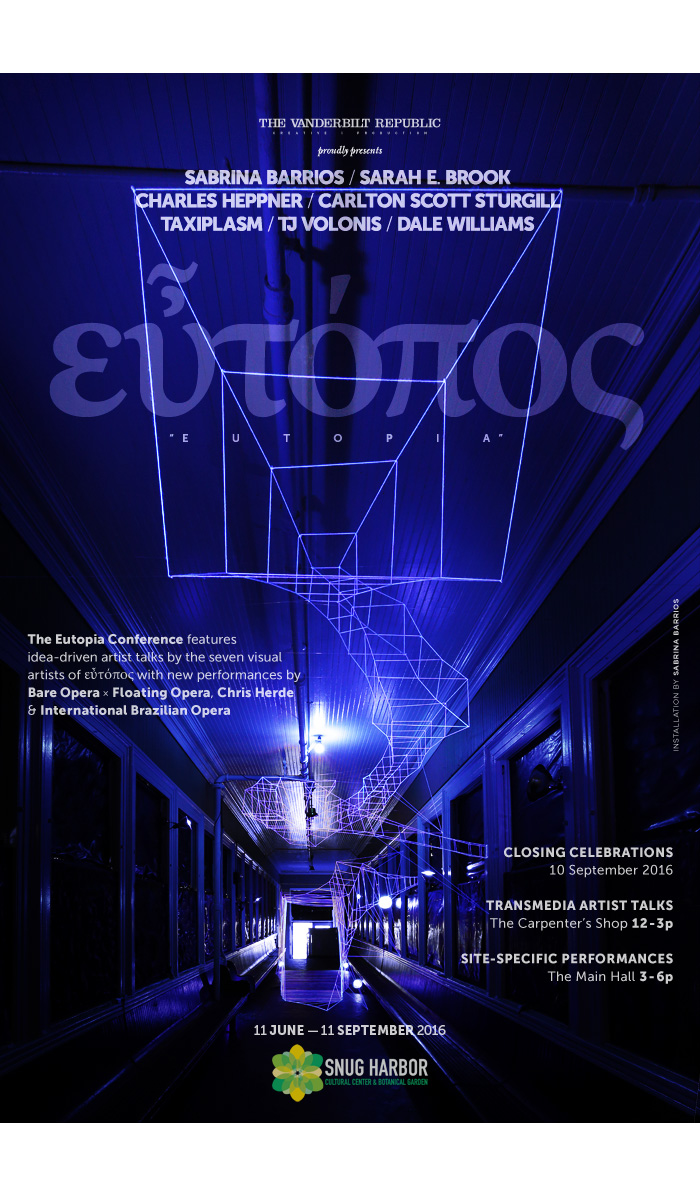 Curated experiences throughout the Main Hall (Building C), the Hyphen over Shinbone Alley,
the Newhouse Center for Contemporary Art (Building G) and the New York Chinese Scholar's Garden


June 11 – September 11 2016
Wednesday-Sunday 10AM-5PM $5 Admission


"Eutopia", derived from the Greek εὖ ('good' or 'well') and τόπος ('place'), describes a society with qualities considerably better than ours.
εὖτόπος is the first group show by the artists of the 9th Street Phenomenon, a creative management group established in 2015 by The Vanderbilt Republic.
This large-scale, site-responsive exhibition connects artwork and installations by Sarah E. Brook, Charles Heppner, Carlton Scott Sturgill, TAXIPLASM, TJ Volonis & Dale Williams to the storied past and bucolic present of Staten Island's historic Snug Harbor — creating a space to present the energy and form of dreams made real.
Curation, lighting & technical design by George Del Barrio.

---
PAST EXHIBITS
FLUID 2015
 Newhouse Center for Contemporary Art
Building C
This summer's group exhibition explores the theme of water and features interactive public art. Guest Curator is Jesse Hamerman of the Public Art Fund.
Artists include: Nancy Agati, Louisa Armbrust, Charlotte Becket, Zelda Blair, Colleen Pike Blair,, Rachel Burgess, Jessica Cannon, Wonjung Choi, Jeri Coppola, Molly Diworth, Jessica Feldman, Tai Hwa Goh, Padilla-Harris Collective, Leah Harper, Same Holleran, Hong Hong, Ming-Jer Kuo, Liesl Pfeffer, Darice Polo, Tomas Ronse, Kelly Sturhahn, Richard Vivenzio, Julie Wills.